Morning crafters, happy Monday......hope you all had a lovely weekend!
It's time for the last
Sparkles
challenge of the year and it's our Birthday..
....
Sparkles
is 4 years old and so our lovely Shaz chose the theme of
ANYTHING GOES!
I wanted to make a card that would be suitable for any occasion so
decided to go with a peach/brown colour combo. The papers were free
with a mag, the decoupage teddy is from a sheet I've had for years but
sorry, I can't remember where it's from. Sentiment is LOTV & ribbon &
lace is from my scrap box.
We're sponsored this time by the very generous
Di's Digi's
offering
our winner a $12 to spend instore!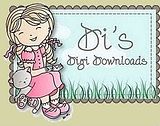 As usual we like to see any & all makes just so long as you stick to the
theme & if you're low on inspiration then why not pop on over to the
main blog
here
& check out the gorgeous Dt makes!
Rightio, better go get a move on, lots to do today....thanks for calling.